MÁRCIO FALCHET
Lords of Metal Magazine-Netherlands

Text: Arco

Brazilian guitarist Márcio Falchet release his debut album last February on which he shows his talents as guitarist, song writer/composer and producer in a style that is a mix of styles like Malmsteen (at his best) Satriani, Vai and Hendrix play, decorated with classical tones of Beethoven, Bach, Vivaldi, Paganini, Mozart, Chopin and Liszt. He controls all rock styles, blues and jazz but chorinho too shows our interview we held with this remarkable musician, who would have become a movie maker or fast advertising guy if he had not ended up in the world of music. Or chemist, or psychologist.
De Braziliaanse gitarist Márcio Falchet bracht in februari van dit jaar zijn debuutalbum uit waarop hij zijn talenten als gitarist, songwriter/componist en producer etaleerde in een stijl die van stijlen is zoals Malmsteen (in zijn beste dagen) Satriani, Vai en Hendrix spelen, versiert met klassieke tonen van Beethoven, Bach, Vivaldi, Paganini, Mozart, Chopin en Liszt. Hij beheerst alle stijlen in rock, blues en jazz maar ook chorinho blijkt uit het interview dat we hadden met deze bijzondere muzikant, die misschien wel filmmaker of vlugge reclamejongen was geworden als hij niet in de muziekwereld terecht zou zijn gekomen. Of apotheker, of psycholoog.
Hi Márcio, how are you doing?
Hello Arco, and Lords of Metal Magazine. Greetings from Brazil. I'm fine, and I'm working to release my new solo album.

Can you tell our readers something more about who's Márcio Falchet?
I'm a solo artist, guitarist, composer, musical producer, etc.. and I am teacher of music here in Brazil. I teach rock, blues, jazz, chorinho (popular music of Brazil), musical production, classical music, etc.. to people of Brazil, to many people that come here to Brazil, to foreign people, and to many people that are famous in music too, etc. And I perform in concerts.

You were born and raised with a guitar in your hand. So you had to become a guitarist. But what would you have become if there was no guitar in your life?
I could probably be a filmmaker or an advertising person or a scientist. In the University of advertising/publicity, the subject I liked most was cinema. I love cine, and the emotion of the films, and I love science too. Also, usually I watch documentaries and films about subjects about science & universe, and I read books and articles about it. Some of the titles of my first solo album are: 'Megaportal', 'Mystery' (about the universe), 'Enigmatic Star', 'Universal Symphony', etc. I like medicine and psychology too.

You are from a musical family but your father has been the most important man for you I understand. By the song 'Father' you honour him I suppose. What was his reaction to that song or did he knew it already?
I made one surprise to him. My father likes this song, very much. I made it to him, one tribute to him. My father was my master in the music, in all music styles. Today, I am having singing classes with him.

Your debut album 'Marcio Falchet' is received well by so many people, press and fans. For this debut you wrote all the songs yourself. Was that done over a long period of time or did it take a few weeks, or days?
I made this album ten years ago. I had some instrumental songs ready, and then I found a place to make the recordings of this debut CD. I made / I wrote all songs of this album by myself, and also the musical production, all arrangements, etc. This album is more metal sound than the second one.

Like Yngwie Malmsteen (just to name someone hehehe…) you use Fender guitars now, was that a deliberate choice?
My first guitar was a Stratocaster Guitar. I played with other types of guitars too, but I love the sound of Stratocaster Guitars. The sound of Fender Guitars is unique and magical.

What do you think of the comparison people make with you and Malmsteen, Vai and Satriani?
It's very nice!!!

For a lot of readers of Lords Of Metal it would interesting I think to know what gear you play with. Can you give us an enumeration?
I play with Stratocaster guitars; specifically a Fender Stratocaster USA, with pickups Seymor Duncan, and some with Di Marzio Pickups, and my amplifiers are Marshall JCM 900, and my distortion effect is the old and great ADA mp-1. I use pedals of Boss too, sometimes. And my strings are GHS and D'Addario 009 to 042.

While you are a huge Beatles fan and admirer of great composers like Beethoven, Bach, Paganini, and Mozart how come you play heavy metal instead of something else, like blues or jazz rock?
Yes, I play blues, jazz, "classical" music, etc.. The universe of music is very broad, and to me is important to play other styles of music, and also because, I am music teacher here in Brazil. I listen to all styles of music.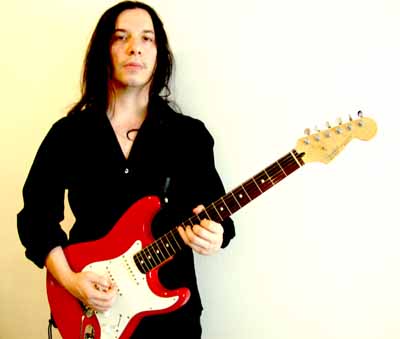 On 'Marcio Falchet' debut solo album; is just one song with vocals, 'Light For Everything', sung by Ronaldo Simolla who did a good job. The new single, anticipating on the second album 'In Your Life', has the vocals of Göran Edman and shows an other side of your playing, more pop rock (although with some shredding!). 'In Your Life' will have twelve vocal songs, all sung by Göran Edman?
I will release my second solo CD this year. Göran Edman sang all songs of the album, and he will be in my band to the shows. I composed all music, and I made the musical production, all arrangements, etc. The album will have fourteen songs; twelve with vocals, and two instrumental tunes. The lyrics were composed by me, and some with: Pedro Falchet, Michel Marcio, and Fernando Winarski.

How did you came in contact with Göran Edman, through MySpace or..?
I'm always talking to Göran, by e-mail or telephone.

On this second album there will be an other drummer if I am correct, can you tell us why?
I know many musicians, here in Brazil, then, I change the musicians to give opportunities to other musicians to have an international career. I receive promotional material of many musicians too.

Will all the songs on the second album be more pop rock orientated?
My new album will be hardrock with metal, with melodies, and some surprises.

Are you producing it yourself again and when will it be released?
Yes. I made the musical production of my new solo album too. I want release the album this year, and I'm looking for labels to release this work. My managers are negotiating it at this moment.

How is the promotion for 'Marcio Falchet-debut album' going? You had plans to go to Brazil, USA, Japan, Asia and Europe as well.
Now first I will release my second solo CD, and we will release the first solo album again too, with some label, to have more promotion for the albums.

Do you already have YouTube instruction clips? You almost can not do without them nowadays.
Today is very important to have a video clip. I'm making an official video in this month, with me singing the song. It will be very nice, and I will upload the video in MySpace, YouTube and Facebook.

You are sent to an uninhabited Island, for some period of time. Name three albums you would bring along and why…
Beatles: 'Sgt. Pepper's', because I like the musicality of Beatles. I could bring other albums of them too. Then, J.S. Bach with the "classics" songs of him, Bach is great composer and musician of all time.
Finally an album of Waldir Azevedo. Waldir was a great musician from/of Brazil, and he played "chorinho" (popular music of Brazil).

Is there anything not asked that you would like to share with our readers?
Believe in your dreams, always, with faith and emotion. Arco, Horst, and Lords of Metal Magazine; thank you very much for the opportunity to show my work!!! As soon as possible, I will be in Europe to perform the songs of my second solo album. Thank you all!!