Mick Madness, American guitar-player & vocalist, talks about Márcio Falchet:

INTERVIEWS> Mick Madness
By Luis Roberto T. Costa
Musical Sun, São Paulo-Brazil, date: 01/02/2006
Translation: Michel Marcio
---
INTRO:

Mick Madness shows to be a great guitar player and within a promising future. In his debut album as solo artist "CD Mick Madness" he shows us that apart from knowing playing guitar he has also too much talent for to compose and for to sing. Check out the interview kindly yielded to the Musical Sun and acquire his CD.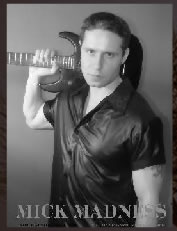 Mick Madness
01) How was the beginning for you with the music? Is there some outstanding fact?
Mick Madness: I started playing the violin first because I loved orchestra music. I thought one day I would like to be a great violinist. That all changed when I discovered the guitar.

02) How do you compose your musics and lyrics?
Mick Madness: I write music in all different ways. Sometimes it begins with a beat or a guitar riff. Other times I just have to tell a story and everything happens around that.

03) Which are your musical influences? Which are your favorite artists?
Mick Madness: My musical influences start with Yngwie Malmsteen, Eddie Van Halen, Steve Vai, Warren De Martini and all the way to the present time with new greats like

Marcio Falchet

. I discovered

Marcio

in an American guitar magazine. He had a guitar exercise that was really difficult to play and that won my respect. I soon after discovered his music and his friendship.

04) What did you feel when you've won the prize of The Best Guitar Player at a kind of "tournament" that happened in Detroit (hometown of the band Kiss)?
Mick Madness: The guitar contest that I won was through a national competition in the states. I won the regional competition 2 years in a row. I felt good about the competition because I was one of the few that actually had an entire solo planned. It is more pressure to play in front of judges than it is to play for 2 thousand people!

05) What is your point of view upon the musical business on these days?
Mick Madness: The music business is tougher than ever before. You're either starving or making just enough to get by. The biggest stars don't even make that much. You have to do it for the love of it. You also have to believe that you can give the world something different. I feel like I am carrying a torch and it is my responsibility to carry it with honesty to the music so that when I retire I can feel that complete.

06) Tell us how is your musical life. Do you teach to play? Do you play at clubs, stadiums or gymnasiums? Do you play with a band or have you ever played with it?
Mick Madness: I'm currently touring the Detroit area. If I'm not playing, I'm writing for my next album. I'm usually playing rock clubs but I'm open to playing anywhere that will support my music. I am also seeking management and I am open to colaborations with other musicians.

07) What is better: to play at clubs or stadiums?
Mick Madness: Clubs usually have a better sound than stadiums and are more personal. Stadiums pay better but it is difficult to get a good mix in a stadium. You have to have an experienced sound man.

08) What is the show that has left a mark on your life?
Mick Madness: We played a festival and my parents came to the show. It was the first time they seen me. My dad told me that he finally realized how hard I worked for this and that he was proud. That meant more than the biggest shows I've ever played.

09) What is the equipment that you use on your shows?
Mick Madness: I play ESP guitars and use Mesa Boogie amps. I don't use much effects because they take away from the power of the music.

10) Tell us how was it to "prepare" your debut album as a solo guitarist?
Mick Madness: My debut album was tough because I had no outside help. I learned a lot about myself through the process. I know now that it doesn't matter what the outcome is. It is the process of the creation that drives me. Every time I finish a song, I want to start another. This is my tribute to my creator!

"Mick Madness" CD
11) Which are your future plans related to the music?
Mick Madness: I plan on putting out another album early next year and keep touring. Hopefully, get out of the states for a show!!!

12) How do you improve your vocal technique and also your technique as guitar player?
Mick Madness: The best way to improve technique is to be honest with what drives you. It happens naturally when you go with instinct. Oh, lots of practice too!

13) Apart from playing guitar and the vocals, do you play other musical instruments?
Mick Madness: I play a little of every instrument, that's how I put my album together. My main instrument will always be guitar, it's the greatest invention of all time!!!

14) Congratulations for the beautiful job registered on your first CD. The Brazilian public is awaiting for your visit here, as soon as possible. Let a message to our readers, at most for those who are beginning at the music.
Mick Madness: I encourage everybody to learn an instrument. There is a healing power in music that is beyond this world. For those who want to make music, bring your heart because that's what God did when he created you... Thank you for taking the time out to help me promote my music! You rock!!!

Mick

Contact:
website: www.mickmadness.com
e-mail: mickmadness777@yahoo.com
Address : P.O. Box: 975 Garden City, Mi. 48136-USA